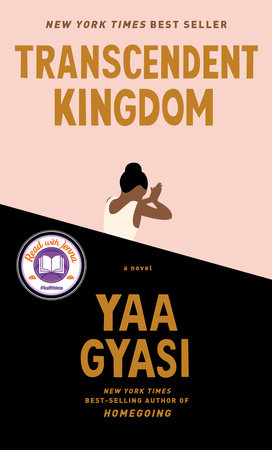 " In my bedroom my mother still lay underneath a cloud of covers. A sound like a purr floated out from her lips. I'd been living alone for so long, that even that soft noise, hardly more than a hum, unnerved me. I'd forgotten what it was like to live with my mother, to care for her. For a long time, most of my life, in fact, it had been mostly me and her, but this pairing was unnatural. She knew it and I knew it, and we both tried to ingore what we knew to be true—there used to be four of us, then three, then two. When my mother goes, whether by choice or not, there will be only one. "
Gifty is a brilliant scientist who spends her life in her laboratory studying mice. Little by little, she has reduced human contact to the bare minimum and dedicated her time to the study of something she gradually discovers to be her family's story. When her mother, in a state of deep depression, comes to live with her, Gifty starts reaching back to her past.
From her parents' arrival from Ghana to the United States, to her brother's death and her own career as a neuroscientist, Yaa Gyasi's second novel unfolds on several layers : what it means to be black in America ; how science and religion, no longer clearly opposed but intertwined, mirror humanity ; how people deal with loss.
In this brilliant work, Yaa Gyasi tackles some poignant topics such as depression, addiction, science and religion, or discrimination. The laboratory becomes the universe of human lives, and mice become the image of individuals struggling to live and hopefully understand what, and why, is happening to them. Yaa Gyasi shows once more her talent and her concern with her contemporary world. If in her first novel, No Home, the narrative has a multiple focalization, in Transcendent Kingdom Gifty, the only focalizer, offers a deeper perspective on America today and on loss, love and science.
When Gifty's mother, her life's landmark, comes to live with her, the protagonist's journey to Ghana is the beginning of a journey of the mind. The brilliant to-and-forth between past and present makes us readers believe that it is in the time of our own mind that all things can be understood and accepted. A brilliant novel by a remarkable author.
Transcendent Kingdom : A Novel by Yaa Gyasi
ISBN : 978-0525658184
Published by Knopf (September 1, 2020) .
Ioana Danaila was born in Romania. She has a PhD in Nigerian Postcolonial Literature and a First degree in French for Non-Francophone people. She is also the author of a collection of short stories and translated books from French to Romanian. Trilingual in Romanian, French and English, she teaches English language and literature to highschool students in France.